Upset & Overtimes In Brooklyn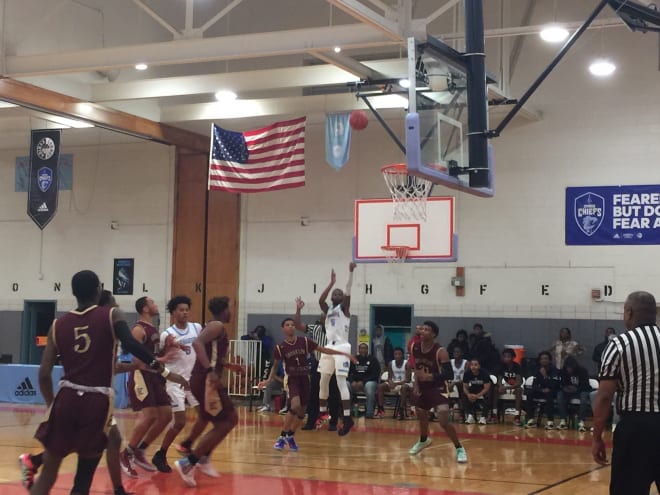 BROOKLYN, NY- With a couple of important and intriguing PSAL Brooklyn AA contests on the schedule for Thursday we at NYCHoops.net decided to do what anyone in our position would do, get to them both.
At 5pm there was a battle between Canarsie and Brooklyn Collegiate, while at 6:30pm less than two miles down the road it was South Shore playing host to Thomas Jefferson. Two games, two miles, one day. Was it doable? We weren't sure but we certainly were going to find out.
Canarsie Shocks Brooklyn Collegiate, 77 - 66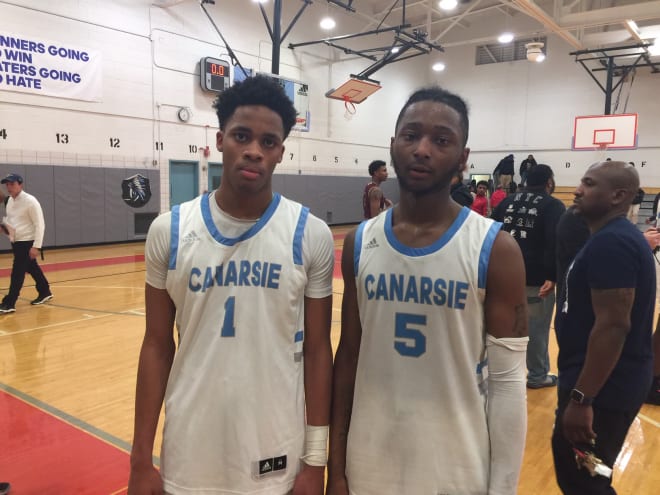 As we headed into the Chiefs gym there was a noticeable absence for the Lions as star guard Majesty Johnson '20 was in street clothes sitting out this one for undisclosed reasons, though it wasn't due to an injury.
Seeing Johnson out gave un-ranked Canarsie head coach Jake Edwards even more confidence than he already had that his Chiefs team would get the victory in this one understanding that now the game plan was very, very simple.
"Anytime you see one of the premier point guards not in uniform against you I think you have to like your chances a little more so I said to our team we are going to press them and then we are going to press them some more, for the entire game," Edwards said.
The pressure early on led to a number of turnovers that had NYCHoops.net #5 ranked Brooklyn Collegiate on their heels, and with Alpha Bah '21 connecting on 5 three's in the opening half and 17 points it was Canarsie in control at the break leading 41-28 over the Lions.
Even with Johnson out for Brooklyn Collegiate it was a shooting display from the outside form Canarsie that even a full strength Lions team would've struggled to contain.
Canarsie scored 41 first half points with its star guard and second leading scorer in the Brooklyn AA in A'Mag Tate '20 struggling, but while he wasn't connecting with his shot in the early going he said that he was making his presence felt facilitating the offense and getting everyone else involved, especially Bah who had the hot hand in the early going.
Tate wasn't going to be held back for long though as he had 11 points in the third quarter to start to get the hot hand himself, with the senior noting that Brooklyn Collegiate could hold him in check for a half, but a whole game was too much to ask for.
"I wasn't going good in the first half so I had to make sure I things going the way I knew my team would need in the second half," Tate said. "They couldn't hold me down that long."
It was still a 13 point lead going to the fourth for Canarsie, and while Brooklyn Collegiate on a couple of occasions got the deficit in the final stanza down to 9 behind the perimeter touch of freshmen sensation Jahmere Tripp '23, and the inside play of Jaylin Anderson '20, it was Tate with an answer for the Chiefs every time.
Bah and Tate each had 27 points apiece to lead Canarsie as they were able to withstand every run thrown at them, and for the first time this season control the game late as the Chiefs led from start to finish to grab a big 77-66 victory over Brooklyn Collegiate.
Losing to Canarsie means back to back losses now in Brooklyn AA play for the Lions after they fell on Tuesday at home to Eagle Academy II, and while it's a loss that will sting for them on the flip side it's a win that can really build momentum for a Chiefs team that a year ago was still in the PSAL A Division.
Coming together as a unit is all Edwards wanted from his team at the start of the season believing that if they were able to do that the results would follow, and with things now looking up for Canarsie it's Edwards thinking even bigger things could be ahead for a Chiefs team shocking not just the Brooklyn AA, but New York City basketball overall.
"We are still growing and still learning each other and what we are capable of but I think we can really do big things here down the stretch," Edwards said with a big smile. "The potential for us now is big and I'm excited to see what we can do."
South Shore Takes Down Thomas Jefferson, 100 - 96 in 2OT's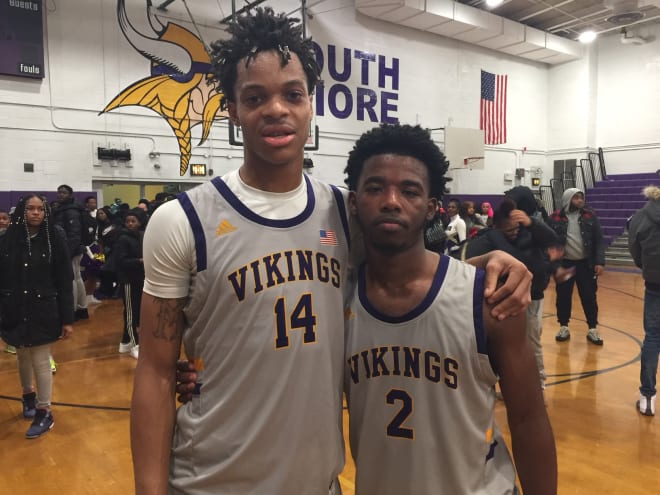 Taking the 1.5 mile trip down the road to South Shore, we arrived at halftime to see Thomas Jefferson holding a 36-31 lead, knowing that with it being a 5 point lead for the Orange Wave that there were still a lot of twists and turns to come in this classic Brooklyn AA rivalry matchup.
To start the second half the South Shore team was ready to go, but head coach Shawn Mark was nowhere to be found. He finally sprinted up the stairs and onto the court but that was nearly a minute into the third quarter. Even without him the team scored the first 6 points to team a 37-36 lead, a note that Mark definitely said he was aware of.
"The kids were playing hard and I got great assistant coaches so that didn't surprise me to look up and see we had taken the lead," Mark stated.
From that point on it was nearly the definition of a back and forth game as Kevin Tabb '20 and Reality Holmes '20 were confidently knocking down open perimeter shots, while Jaquan Carlos '21 was his usual shifty self and getting into small driving lanes and finishing with contact.
Jefferson would take a 52-43 lead with 3:12 left in the third but South Shore would storm back as Ziare Wells '21 drained a three from the left corner, while Dakhari Lewis '20 would score 6 late in the quarter on finishes around the rim to see the teams go to the fourth tied at 57.
After letting the lead slip away, it was Carlos again looking to do whatever he could to make sure his Jefferson team got the big win they at this point in the season so desperately need. He would relentlessly attack the basket and get himself to the charity stripe with the Orange Wave lead again hitting as much as. 69-62 after a Ramsey Saleh '21 three with 3:36 to go.
Every time though it seemed as if Jefferson were about to fully gain control it was someone for South Shore stemming the tide as Dontae Prescott '20 would drain a couple big FT's, while Marcus Burnett '20 would prove to be a smooth finisher off the dribble going inside.
With the game tied at 74 each team had a couple chances to take a lead in the final 30 seconds, but both the Orange Wave and Vikings had unfortunate turnovers, and when Prescott missed a straightaway three at the buzzer it meant overtime for this heated Brooklyn rivalry.
Like the game had gone for much of the second half it was Jefferson taking an early lead in the extra session. At that point it felt as if South Shore had missed their chance at the win when Prescott missed his end of regulation shot, but the junior guard said he knew it would all be alright when his fellow guard in Kipplyn Richvine '21 fouled out and made sure to give him a message as he walked off the court.
"I had the motive where I was going to win the game regardless whether we was in regulation or overtime," Prescott confidently said. "I just had to make a shot because when Kipplyn fouled he came over to me he told me to just win the game for me so we had to do it."
Down though at 86-84 with exactly 5 seconds left all hope looked lost as Carlos was on the line for 2 FT's for the Orange Wave looking to put the game away. He missed the first one though with Burnett saying that's all they needed to know this game was going to a second OT session. Carlos made the first and with South Shore out of timeouts it was go time.
Burnett got the ball and dribbled up the court but he was soon double teamed on the right side so as soon as he crossed halfcourt he made the pass to Prescott just left of being straight away. He didn't have time to think but squared up and put up a contested three. Unlike the one in regulation though this one was nothing but net as Prescott pulled his jersey out of his shorts and celebrated with his teammates as the game was once again tied up heading to more extra time.
Making the buzzer beater at the end of the first overtime was all Prescott needed to know this one was all theirs.
"I just knew we had them then, that we had this one now," Prescott admitted.
That's exactly how it played out too as Burnett drained a three early in the second overtime, and while Jefferson had been strong in connecting on 13 three's up until that point, the well ran dry with a pair of good opportunities missed late as South Shore finally took a comfortable lead and were able to close it out strong as behind Burnett's 24 points, and 17 more points coming from the hero in Prescott it was the Vikings going atop the Brooklyn AA standings alongside of Brooklyn Collegiate after taking a 100-96 two overtime victory over Thomas Jefferson.
It's been heartbreak for most of the season for the Orange Wave, and even though Carlos again had a monster effort with 25 points, it wasn't enough as they fell for the 6th time this season in PSAL Brooklyn AA play.
Confident in Prescott to make the big shot, and confident in his team now is Mark who has what is nearly an entirely new team this season after winning the PSAL City Championship a year ago, and while they aren't where he as the coach wants them to be yet, Prescott says this game on Thursday could be the turning point in helping the Vikings make this another very special season.
"This game was big for us because I believe it brought us together to fight for one another, and that's what we're gonna do now every day and every game the rest of the way," Prescott said.